Eco-Friendly Products
For a Cleaner World
HANCHANG PAPER
Greenus 100% Compostable & Biodegradable.

Eco-friendly Business
We work with Nature to create Nature
Greenus is an Eco-Friendly brand.
Our goal is to create a better world by developing and producing environmentally friendly products. All of our current products have obtained major domestic and international environmental and food certifications. We take pride in our excellent production facilities and strict quality control, which allow us to produce the most competitive products in the market.

We believe that there is no such thing as a perfect eco-friendly product, which is why we are constantly working on research and development to create even better products for the planet and the environment.
No CO2!

No Pollution!

No Harmful Environmental Toxins!
PLA Material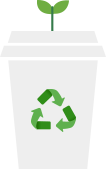 Greenus products are
environmentally friendly
and compostable products
utilizing natural
raw materials.
※ Source from Nature Works
자료 준비중입니다.
What is PLA (Poly Latic Acid)?
① Base Material

Made of vegetable starch.

② Photosynthesis

Through photosynthesis, plants produce glucose and oxygen using CO2, water, and sunlight.

③ Polymerization of Glucose

Glucose made from photosynthesis is made into PLA by fermentation, polymerization, and purification by microorganisms.
Certificates
BPI

BPI

DIN

TUV

TUV

OK compost

OK compost

OK compost

OK compost
Contact Us
Address

Hanchang Paper Co., Ltd.
11Floor, Excon Venture BLDG., 15-24, Youido-Dong,
Youngdeungpo-Gu, Seoul, Korea (07237)
TEL: +82-3774-5473 / FAX: +82-3774-5488

Overseas sales division

Won (wonchoong@gmail.com)
Joe Oh (joe.saeyoon.oh@gmail.com)
Your inquiries are always welcome.