Eco-friendly Products
For a clean World
HANCHANG PAPER
100% Compostable & Biodegradable.

Eco-friendly Business
We make Nature by Nature
Greenus is our Eco-friendly brand. These products are safe and reliable though strict Quality Control,
having passed various Eco-friendly certifications not only in the local but in the international.
No! CO2

No! Pollution

No! Harmful Environmental Hormone
PLA Material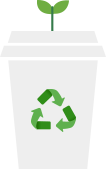 Greenus products are
environmentally
Friendly biodegradable
products based on Natural
raw materials.
※ Source from Nature Works
자료 준비중입니다.
What is PLA (Poly Latic Acid)?
① Base material

It's vegetable starch.

② Photosynthesis

Plants produce glucose and oxygen after
photosynthesis with CO², water and sugar

③ Polymerization of glucose

Glucose made from plant's photosynthesis is made into PLA by
fermentation / polymerization / purification by microorganisms.
Contact Us
Address

Hanchang Paper Co., Ltd.
11Floor, Excon Venture BLDG., 15-24, Youido-Dong, Youngdeungpo-Gu, Seoul, Korea (07237)
TEL: +82-3774-5473 / FAX: +82-3774-5488

Overseas sales division

Won (wonchoong@gmail.com)
Joe Oh (joe.saeyoon.oh@gmail.com)
Your inquiries are always welcome.